Donate Muhammad Saleem for his Lap Cholecystectomy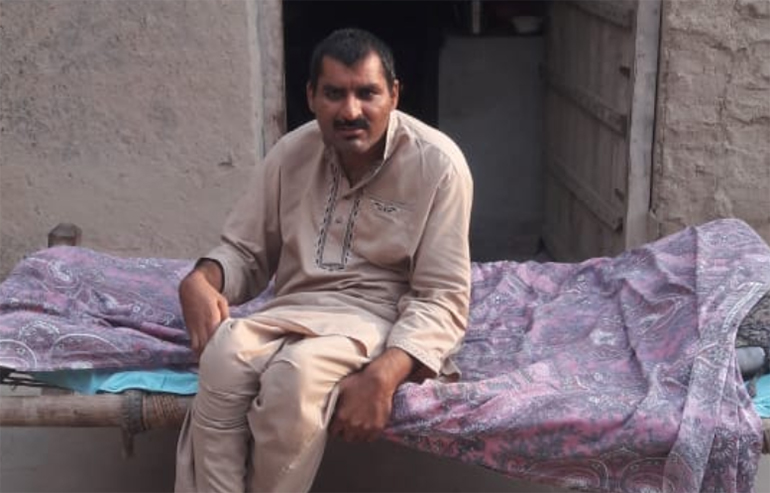 Muhammad Saleem's Story
This disabled man is suffering from painful disease. Your donations can enable him to live a healthier life!
Muhammad Saleem is a 25 years old man who is disabled since birth. He was only 15 days old when he was diagnosed with sepsis/meningitis due to which his lower limbs area and right arm lost their function. Only his left arm is partially working. Muhammad Saleem is unable to walk and perform any activity due to his disease. He relies on his family for every little need. His brother is the only earning member of this family. He works as a mechanic and hardly earns around 9,000 rupees a month. Saleem's father also work on someone's land and earns a little income every month.
This family is already living miserable life due to lack of resources. In this tough time, Muhammad Saleem is diagnosed with Cholelithiasis – the presence of solid concretions in the gallbladder. Doctor advised him to undergo surgery to remove the gallbladder. This poor family is unable to pay for his surgical expenses. They contacted various institutes for free surgical treatment but nobody paid attention to them. Saleem's health is deteriorating with each passing day. He feels severe abdominal and right hypochondrial pain along with vomiting. A little delay in his surgery could result in further painful episodes. Luckily, this family came to know about Transparent Hands through Abid Hospital.
Muhammad Saleem is scheduled for his Lap Cholecystectomy in a few days at Abid Hospital, Mian Channu. His father says, "my son is already disabled and now he is going through so much pain due to his disease. I want to see him happy and healthy again. Please donate for his surgery".
Donate for his surgery now!
Donors who are supporting Muhammad Saleem

---

---

---

---

---