Donate Sarwar Bibi for her Vaginal Hysterectomy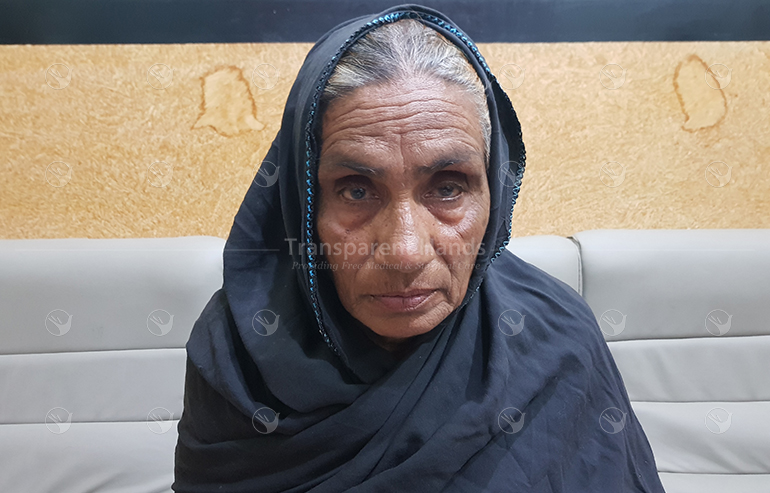 Syeda Sarwar Bibi's Story
"We have no children. My wife is all I have and I cannot do anything to get her treated. We are living miserably because I am unable to earn due to my paralysis. Please donate for my wife's surgery; we'll be forever indebted to you, for your kindness." – Sarwar Bibi's husband.
65 year old Sarwar Bibi has been diagnosed with Uterine Prolapse. She has been suffering from this problem for the last 3 years and visited many hospitals for treatment. The doctors have now advised her surgery as permanent cure.
Sarwar Bibi is experiencing intense abdominal pain and back ache. From the last one year, her condition has worsened and she is unable to sit comfortably, because of her uterus bulging out, all the time. She also has trouble while urinating.
Sarwar Bibi has no kids. Her husband sold plastic toys on a bicycle but a couple of years ago, he suffered paralysis and his left side has become immobilized. He is now unable to work. They do not have a definite source of income and relatives help to provide just enough for them to have two-time meals, a day. They live in a small house provided by parents and it is impossible for them to afford the expensive surgery.
Luckily, they came to know about Transparent Hands and appealed for free surgery.
Sarwar Bibi is now scheduled for her Vaginal Hysterectomy at Abid Hospital – Mian channu, through Transparent Hands. Please donate for her and ease some of the miseries of this poor, childless couple.
Donate Now!

---