Habiba Awaits Open-Heart Surgery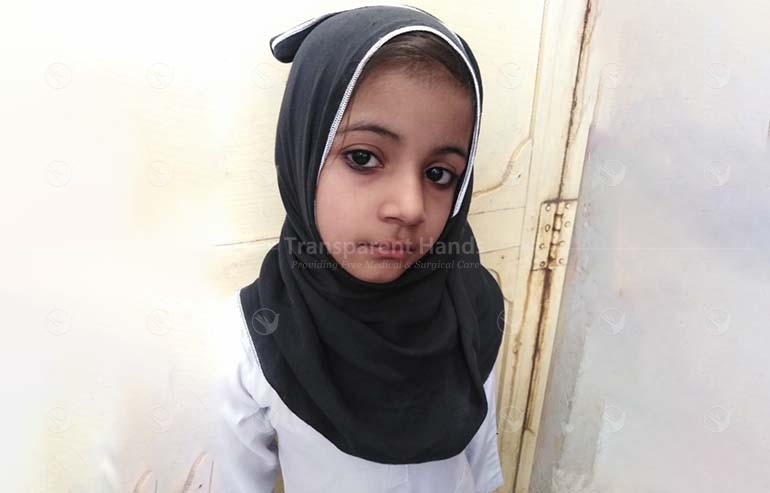 Umme Habiba's Story
Habiba was born with rare congenital heart defects that need surgical repair. She is a young girl with her whole life ahead of her. Her parents are not financially stable enough to pay for the expensive heart surgery. Habiba awaits Open-Heart Surgery and only your donations can make her surgery possible.
Seven-year-old Habiba, a resident of Kasur, suffers from shortness of breath, nausea, and vomiting. She is also unable to gain weight. Her parents learned about her condition when she was only five months old. They took her to the local hospital. After a thorough evaluation and some diagnostic tests, the doctor diagnosed her with critical congenital heart defects involving Ventricular Septal Defect, Double Chamber Right Ventricle, and Right Ventricle Outflow Tract Obstruction. The cardiac surgeon advised her to undergo Open-Heart Surgery for Total Correction.
She lives with her parents and three siblings in a small house. Her father is the family's breadwinner and earns just PKR 12,000 per month. He has no other source of income. With this meager income, he can't pay the surgical expenses. Her parents are greatly concerned about her declining health. They are losing hope with each passing day. Her father said with teary eyes:
"I feel helpless whenever I see my daughter struggling to breathe. She is not energetic like other children. She cannot even eat properly due to nausea and vomiting. Your financial support is the only hope in our lives." 
Her father learned about Transparent Hands and submitted the documents to register her case with us. We are determined to support her cardiac surgery fully, but we need your donations to save her heart. Her parents have exhausted all other options and have placed their hopes in your hands. Your support, even if it's as little as $10, can help Habiba overcome her heart defects. Habiba awaits Open-Heart Surgery to live a healthy life.
---
Disclaimer: Transparent Hands makes sure that all the patients get surgery in time. If a patient requires urgent surgery and his/her condition is serious, Transparent Hands conducts the surgery immediately. In the meantime, his/her campaign stays active on the website until we raise the complete funding. The hospitals on our panel have complete trust in us and wait for the payments until the patient's funding is completed.

---

---

---
---