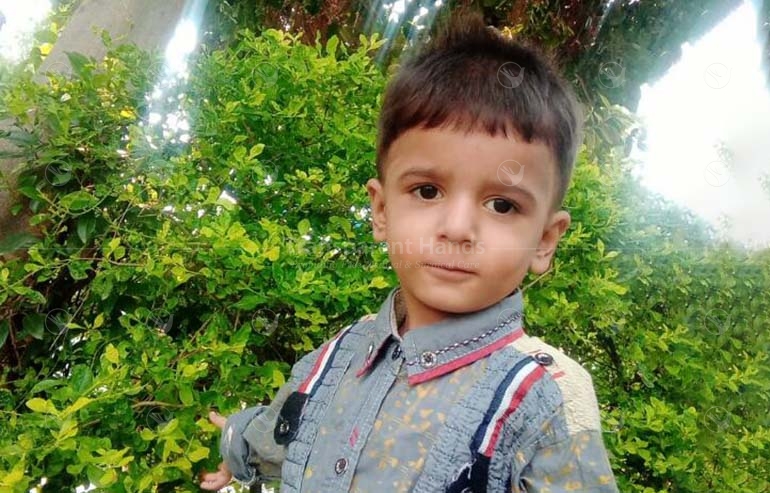 Muhammad Ali 's Story
Muhammad Ali has rare congenital cardiac anomalies. He is too feeble to endure the pain. His physical growth and development are also slow. He could not express his pain and grief in words. His parents are too concerned about his health. He needs surgery to fix the cardiac anomalies, but his parents can't pay for it because they don't have enough money. You can save Ali's little heart by donating generously. 
Two-year-old Ali, a resident of Haripur, has been suffering from shortness of breath and cyanosis since birth. He is also unable to gain weight. His parents came to know about his condition recently.  His parents took him to a local hospital. After the diagnostic tests and evaluation, the doctor diagnosed him with Tetralogy of Fallot (TOF) and Double Aortic Arch. A double aortic arch is a heart defect that affects the development of the aorta. This defect causes an abnormal circle of blood vessels to form. It is called a vascular ring. This can block the airway, which can be life-threatening. TOF involves heart defects that change the way blood flows through the heart. The cardiac surgeon advised him to undergo Open-Heart Surgery for Total Correction. 
He lives in a rented house with his parents and five siblings. His father works at a factory and earns just PKR 30,000. He barely manages the household expenses in this meager income. He is not financially stable enough to pay for the costly cardiac surgery. He said in a depressed tone:
"It is heartbreaking to see that my child is not growing like other kids. He has no physical strength to bear the pain anymore. Please help my child." 
His case is registered with Transparent Hands, and we have assured his family that we will arrange his open-heart surgery. However, it will not be possible without your help. You can add many years to his life with a small donation. Even a donation as small as $10 can have a significant impact. We urge you to donate for his Open-Heart Surgery and save Ali's little heart. His parents have exhausted all other options and have placed their hopes in your hands. You can change his future with your donation today. Help us save an innocent life. 
---
Disclaimer: Transparent Hands makes sure that all the patients get surgery in time. If a patient requires urgent surgery and his/her condition is serious, Transparent Hands conducts the surgery immediately. In the meantime, his/her campaign stays active on the website until we raise the complete funding. The hospitals on our panel have complete trust in us and wait for the payments until the patient's funding is completed.

---

---

---