Support Ayesha's Redo Open-Heart Surgery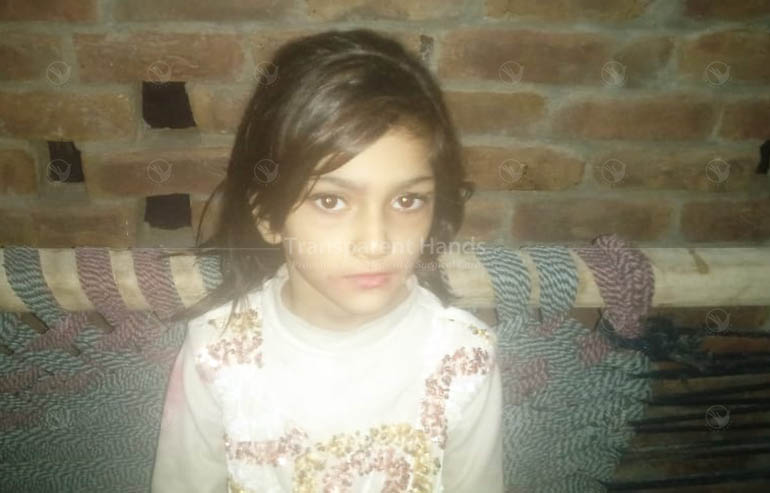 Ayesha Bibi's Story
Ayesha is at risk of heart failure if her heart defect is not fixed with Redo Open-Heart surgery. She is an innocent child with a whole life ahead of her, but her deteriorating health is making it challenging for her to lead a healthy life. Her parents are not financially stable enough to pay for the expensive heart surgery. We request you to support Ayesha's Redo Open-Heart Surgery to prolong her life. Your donation can help us save her heart.
Seven-year-old Ayesha, a resident of Okara, has been suffering from dyspnea, cyanosis, and frequent episodes of chest pain since birth. She is also unable to gain weight. Her parents learned about this condition when she was one year old. Her parents took her to the local hospital. After her thorough evaluation and running some diagnostic tests, the doctor diagnosed her with a ventricular septal defect. Her first Open-Heart Surgery for VSD Closure was performed in 2017 through Transparent Hands. After some time, she complained of chest pain and shortness of breath. Her parents revisited the local hospital. After running more tests, the doctor diagnosed her with subaortic membrane (SAM) and the cardiac surgeon advised her to undergo a Resection of SAM (Redo Open-Heart Surgery). It is a surgical procedure in which the surgeon will open the chest and then the aorta near the aortic valve. The subaortic membrane is removed, which will restore the flow of blood from the left ventricle to the body.
She lives with her parents and two siblings. Her father is the only breadwinner in the family and earns just PKR 18,000 per month. He has no other source of income. With this meager income, he is unable to afford the surgical expenses. Her father said in distress:
"My beloved daughter has been battling a dreadful heart disease for so long. She needs Redo Open-Heart Surgery to survive. Please help her."
After a lot of emotional distress, Ayesha's parents registered her case with us. With your donations, we will be able to arrange her heart surgery. Please support Ayesha's Redo Open-Heart Surgery and help us keep her heart beating. 
---
Disclaimer: Transparent Hands makes sure that all the patients get surgery in time. If a patient requires urgent surgery and his/her condition is serious, Transparent Hands conducts the surgery immediately. In the meantime, his/her campaign stays active on the website until we raise the complete funding. The hospitals on our panel have complete trust in us and wait for the payments until the patient's funding is completed.

---
---