Support Mirza by contributing for his leg surgery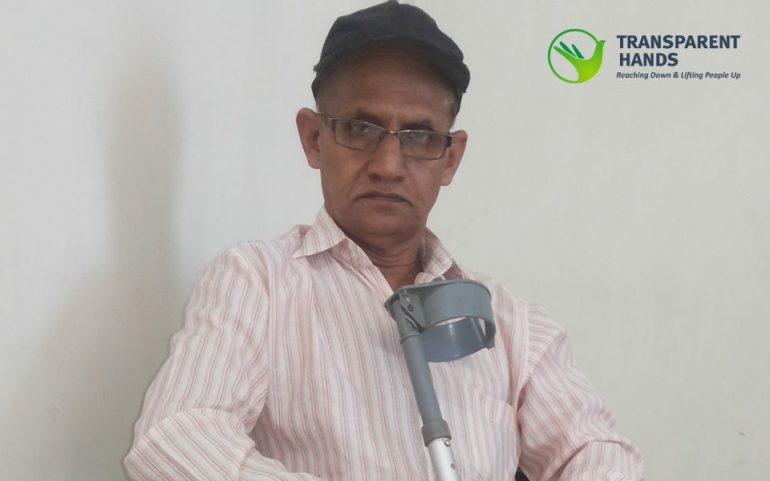 Mirza Nafeez Baig's Story
Mirza Nafeez Baig has a swollen right leg which makes it difficult to walk around or to stand for more than 10 minutes. He had an accident in January, during which his ankle joint was displaced. The joint was reconnected during surgery, but swelling started when Mirza Nafeez started walking too soon. The joint has been displaced again. Now he needs another surgery to reconnect his displaced joint and stop his leg from swelling any further.
Mirza Nafeez Baig used to work at Pel before his injury and was the sole earner in the family. He has two sons and one daughter. Ever since Mirza Nafeez's accident took place, his eldest son had to quit his studies and started earning for the family as well as his siblings studies, by working at a fabric factory. Mirza finds it very difficult to walk with the swelling and cannot climb the stairs without help. He faces trouble while entering and leaving his house, which is on a 3rd floor. Therefore he is forced to stay at home. 59 year old Mirza Nafeez was a very active man before his surgery and does not wish to spend the rest of his life staying indoors. He is desperate to have his joint re fixed despite the surgery being very expensive. Let's support Mirza by contributing for his surgery!
Donors who are supporting Mirza Nafeez Baig

---
Mirza Nafeez Baig's Story
Nafeez Baig was treated in Zainab Memorial Hospital and Dr. Masood Ahsan did his surgery. He was admitted at hospital for eight nights. Now, he is quite well and able to walk. He prays a lot for Transparent Hands team and the donor who helped him.