Donate Faizan Abbas for his Hernioplasty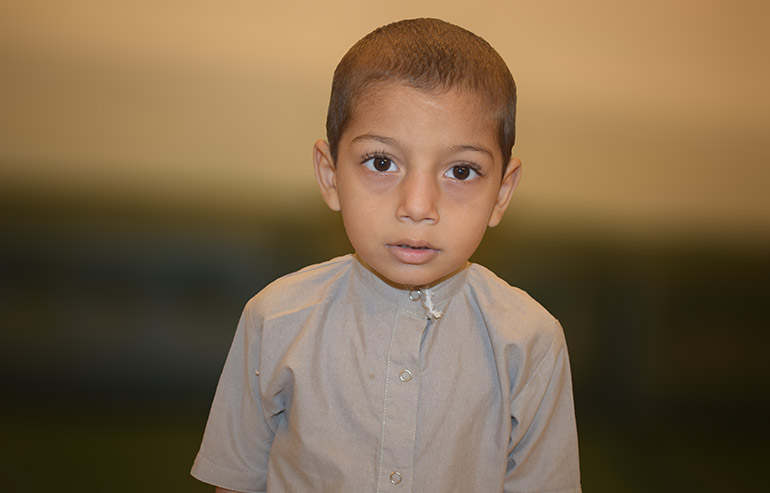 Faizan Abbas's Story
Faizan is going through severe pain due to his disease!
Faizan Abbas is a 3.5 years old boy who lives in a small town of Lahore with his parents and 10 siblings. All his siblings go to school except his elder brother who works as a salesman in a local office. Faizan has been suffering from umbilical hernia since birth. His parents took him to a few local hospitals for his surgical treatment but nobody paid attention to them. Due to long waiting list, hospital has been giving them surgery time of few years.
Faizan has been experiencing painful symptoms for three years.  He feels severe pain in his tummy, nausea and vomiting, bloating in abdomen and fever. He wants to go to school but his pain is not allowing him to even walk or play. His father cannot afford to get him operated from a private hospital. He works as a security guard and only earns 16,000 rupees a month. In this meager income, he has to pay the school fees of his children and also bear the household expenses.
Faizan is now scheduled for his hernioplasty in a few days at Akram Medical Complex. His parents are relieved to know that he'll finally get rid of his painful disease. They said, "it's hard for us to see our child crying in pain all the time. Please help him so that he can grow normally like other kids of his age".
We request you to please donate for his surgery. Your prayers and donations will enable him to start his school and live his life without any health issue. Donate for his surgery now!

---

---

---

---
Faizan Abbas's Story
Faizan Abbas 3 ½ years old presented with a lump in his umbilicus which was diagnosed as Umblical Hernia and was advised surgery to repair it. His operation was done in Akram Medical Complex on 28-08-18 by Dr. Ahmed Fawad. He had 1.5 cm hernial defect for which simple repair was done. He had good post op recovery and remained admitted for two days after the surgery. He was discharged pain free and in perfect health.