Donate for Shahbaz's prosthetic arm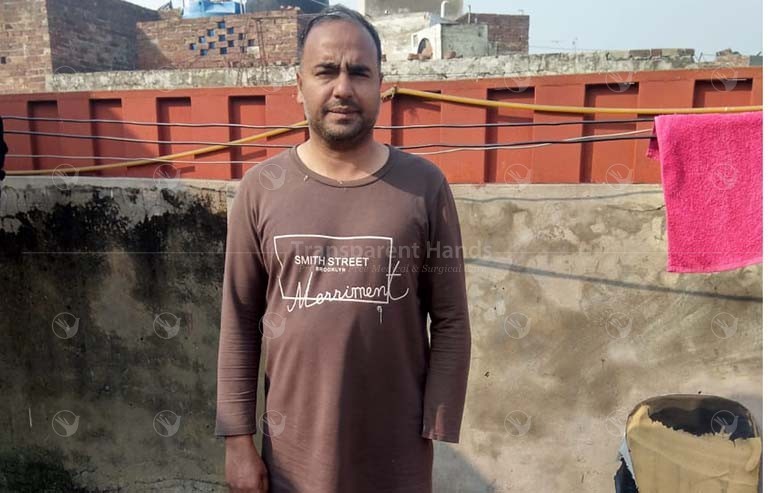 Shahbaz Masih's Story
Shahbaz Masih lost his arm in an accident and has been struggling to get a prosthetic arm. Please know that your donations will bring a huge change in Shahbaz's life and get his life back on track. We urge you to donate for Shahbaz's prosthetic arm.
Shahbaz Masih, a 40-year-old resident of Narowal, suffered a tragic event fifteen years ago. His left arm was stuck and crushed in a machine while he was working. His arm was badly crushed and he had excessive bleeding. He was rushed to the hospital. The doctors tried their best to save his arm but they could not. Unfortunately, the doctors had to amputate his arm in order to save his life. His left arm was amputated below the elbow level. 
Shahbaz's life has taken a sad turn ever since. Due to lack of financial resources, his family has been struggling. It is out of the question for them to afford the hefty cost of a prosthetic arm without the support of donors like you. Shahbaz contacted Transparent Hands and requested us to get him a prosthetic arm.  Shahbaz shared his sorrow with Transparent Hands in the following words:
"This mishap has changed me. I used to make everybody laugh, but now I am always grumpy and sad. This disability has broken my heart into a trillions of pieces. The prospect of getting this prosthesis has given me some hope. Please donate generously."
Shahbaz works to support his family of four and barely manages to make both ends meet. This prosthesis is crucial for Shahbaz's physical and emotional well-being. 
Now that Shahbaz has been registered with Transparent Hands, we are determined to support him. But won't be able to do so without your generous donations.  Donate for Shahbaz's prosthetic arm without any delay.
---
Disclaimer: Transparent Hands makes sure that all the patients get surgery in time. If a patient requires urgent surgery and his/her condition is serious, Transparent Hands conducts the surgery immediately. In the meantime, his/her campaign stays active on the website until we raise the complete funding. The hospitals on our panel have complete trust in us and wait for the payments until the patient's funding is completed.
---

---