Donate Anas Dawood for his Colostomy Closure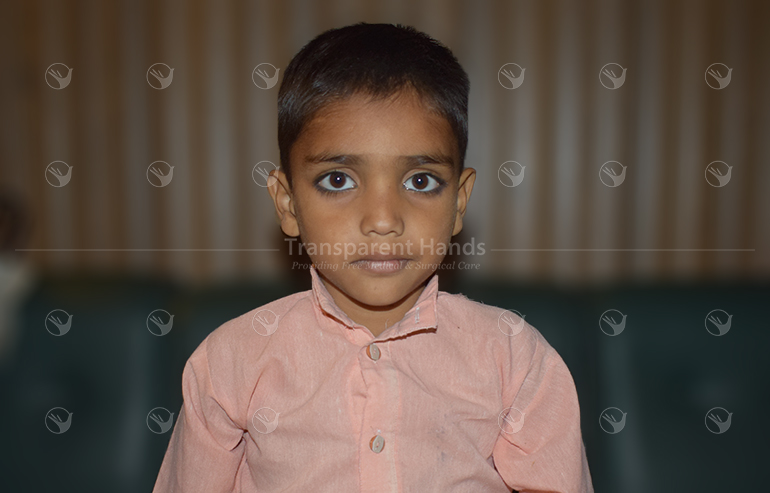 Anas Dawood's Story
"My son was born with a birth defect and he has had two surgeries, since then. He now needs a final surgery but we do not have the resources to afford it. Please help us. Your kind donations will enable him to start living a normal life." – Anas's mother.
6.5 year old, Anas Dawood was born with Anorectal Malformation. At the age of 3 days, his colostomy was made at a local hospital. The doctors advised him two more surgeries to completely cure him of his birth defect.
The hospital which did his colostomy scheduled him for his second surgery, but kept on delaying. Luckily, his parents came to know about Transparent Hands and Anas's second surgery, Posterior Sagittal Anorectoplasty (PSARP) was done through Transparent Hands on January 17th, 2019. He now needs his final surgery of Colostomy Closure.
Anas's bowel opening on the abdomen is impacting his social life, negatively. There are small rashes on his skin as he cannot maintain personal hygiene like other children.
Anas has 3 brothers and 1 sister and all are school going except the younger one, who is 4 years old. Their family is dependent on his maternal uncle for all their financial needs because his father doesn't work and he has never taken responsibility of his family.
Transparent Hands is once again, supporting him for his final surgery of Colostomy Closure.
Anas is scheduled for his Colostomy Closure at Akram Medical Complex. Please donate for him, once again. This final surgery will help him start a normal life and let him fully enjoy his childhood.
Donate Now!

---

---

---