Donate for Absar's Open-Heart Surgery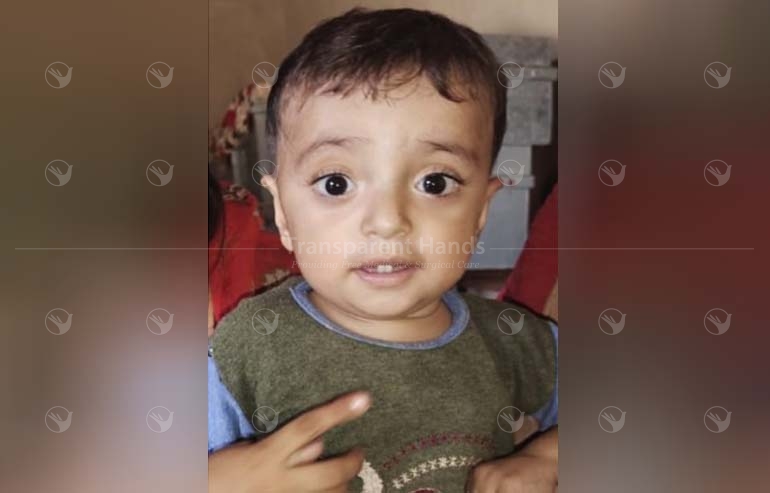 Muhammad Absar's Story
Muhammad Absar was born with complex heart defects. If these heart defects are not treated with surgery, they may cause heart failure, heart blocks, and high blood pressure in the lungs. You can help his ailing heart with your donations. We urge you to donate for Absar's Open-Heart Surgery to prolong his life. 
One-year-old Absar, a resident of Bhakhar, suffers from shortness of breath, cyanosis, and repeated episodes of chest infection. He was also unable to gain weight. Upon consultation, he was diagnosed with multiple heart conditions, including Left Atrial Isomerism, Double Inlet Right Ventricle, and Unbalanced Common Atrioventricular Canal. His parents came to know about these complex defects recently. The doctor advised him to undergo Open-Heart Surgery with CP Shunt. 
He lives in a small house with his parents and two siblings. His father is the family's sole earner with a meager income of just PKR 15,000 per month. Due to financial constraints, his father cannot afford to pay for this costly surgery. His father is concerned about his health as he is not gaining weight and growing slowly. He is not as active as other children of the same age. His father is losing hope day by day. His father said with teary eyes: 
"My son is very dear to me and my whole world would sink if something happened to him. His health is declining day by day. I request all donors to donate generously for Absar's Open-Heart Surgery."
One of their relatives told them about Transparent Hands, and we have registered Absar's case. We have promised his parents that we will provide him with the best treatment. You can give him the gift of a bright future. Donate for Absar's Open-Heart Surgery to give him an opportunity to live his life to the fullest.
---
Disclaimer: Transparent Hands makes sure that all the patients get surgery in time. If a patient requires urgent surgery and his/her condition is serious, Transparent Hands conducts the surgery immediately. In the meantime, his/her campaign stays active on the website until we raise the complete funding. The hospitals on our panel have complete trust in us and wait for the payments until the patient's funding is completed.

---

---

---
---