Give for Atta Muhammad's Ureteral Stone Removal Surgery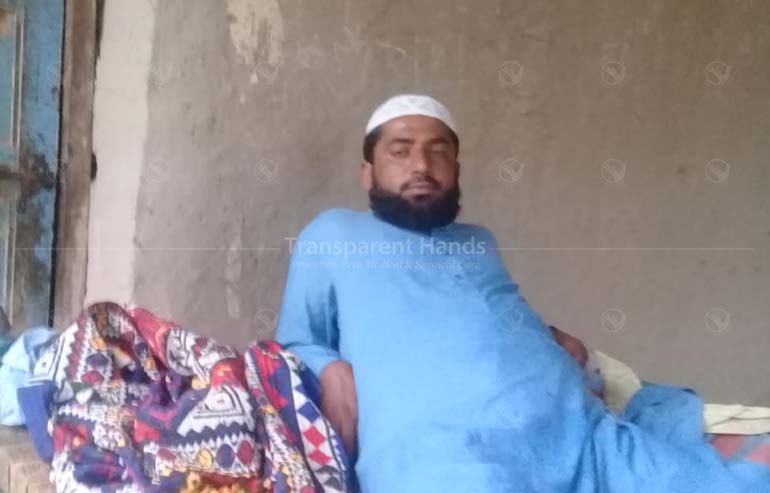 Atta Muhammad 's Story
Atta Muhammad has kidney stones and the pain is affecting his job and financial stability. His family is facing a lot of financial constraints and cannot afford the surgery advised by the doctor. Please give for Atta Muhammad's Ureteral Stone Removal Surgery generously. 
Atta Muhammad, a 34-year-old resident of Badin, Sindh, has been experiencing pain, bleeding, and stickiness while passing urine. He went to a local hospital for an evaluation and the doctor prescribed him medicines for two weeks. After two weeks, his symptoms worsened, and he visited the hospital again. He was admitted to the hospital for tests and clinical assessment and the doctor diagnosed him with a right ureteral stone. He was advised to undergo ureterorenoscopy (URS) surgery along with the insertion of a DJ stent, which is a preferred method for the treatment of small to medium-sized ureteric stones. In this procedure, the stones are visualized and removed from the urinary tract.
Atta Muhammad lives with seven family members in a small house. He earns just PKR 10,000 per month. He can't afford the surgical expenses with his limited salary. His deteriorating health condition and stress due to financial constraints are exhausting him physically and mentally.
Atta Muhammad said with a heavy heart: 
"In this era of inflation, it is very difficult to pay for medical expenses while managing a household. It is an appeal from a helpless person. If you're reading this, please help me bear my surgical expenses. We are desperate. My family will be grateful to you forever."
Someone told them about Transparent Hands and they reached out to us after exhausting all other options. His case is now registered with Transparent Hands. Play your part in helping us champion this noble cause. Every donation makes a difference. You can change his future with as little as $ 10. Given this for Atta Muhammad's Ureteral Stone Removal Surgery today.
---
Disclaimer: Transparent Hands makes sure that all the patients get surgery in time. If a patient requires urgent surgery and his/her condition is serious, Transparent Hands conducts the surgery immediately. In the meantime, his/her campaign stays active on the website until we raise the complete funding. The hospitals on our panel have complete trust in us and wait for the payments until the patient's funding is completed.

---

---

---