Give for Sajjad Ali's Pyelolithotomy Surgery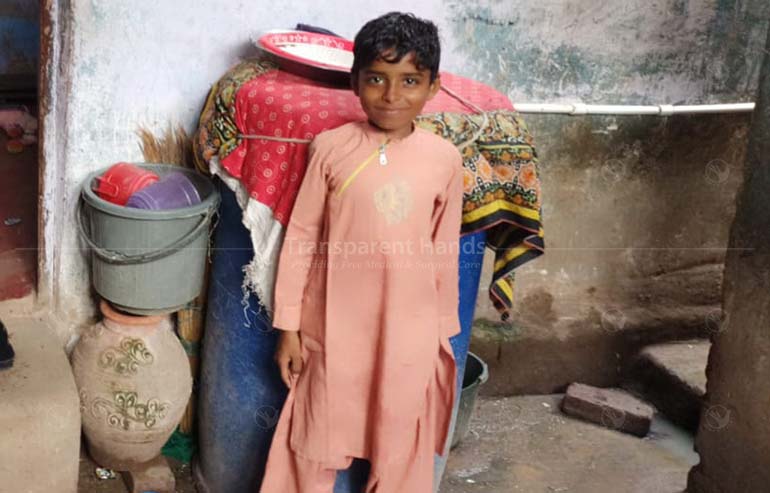 Sajjad Ali's Story
Sajjad Ali is an innocent child who has been suffering due to kidney stones. This condition is causing him a lot of pain at such a young age. He is unable to play or concentrate on anything. He needs your donation to undergo Pyelolithotomy Surgery to be active and happy like other children. We urge you to give for Sajjad Ali's Pyelolithotomy Surgery as much as you can.
Six-year-old Sajjad, a resident of Hyderabad, went to a doctor for a check-up due to pain and bleeding in his urine about four months ago. The doctor advised tests and diagnosed him with right-sided renal stones. After evaluating the reports, the doctor advised right Pyelolithotomy. It is a surgical procedure used in cases involving stones in the renal pelvis. 
He lives in a village with his six family members. His father drives a taxi and earns just PKR 12,000 per month. He is the only earner in the family. It is difficult for a big family to survive with such a small monthly income. His family cannot afford to pay for the surgery. 
Sajjad Ali expressed his pain and sadness with the following words: 
"I want to play with other children, but this pain doesn't allow me to do so. I am also unable to focus on my studies due to it. The doctor has told me to undergo surgery as soon as possible."
Sajjad Ali's family contacted our team and now his case is registered with Transparent Hands. We are determined to raise funds for his surgery with your support. We need your help in fulfilling the dreams of this innocent child. His parents have placed their hopes in your hands. You can change this boy's future with your donation. Give for Sajjad Ali's Pyelolithotomy Surgery and receive countless blessings. Even a small donation can make a lasting impact.  
---
Disclaimer: Transparent Hands makes sure that all the patients get surgery in time. If a patient requires urgent surgery and his/her condition is serious, Transparent Hands conducts the surgery immediately. In the meantime, his/her campaign stays active on the website until we raise the complete funding. The hospitals on our panel have complete trust in us and wait for the payments until the patient's funding is completed.

---

---